Posted by Jonathan Beals, Owner on October 02, 2015
In Part 1 of this series, we covered the proper formula for accurately calculating currency conversion. In Part 2, we highlighted how big of an impact shipping and border fees can have on your order costs. Even if you find a better deal after conversion, it can still end up costing you more than if you ordered from your local store.
Therein lies the final question. What if I drove across the border to pick it up in person? I live in Ottawa (about 100km from the UPS store in Ogdensburg, NY). A lot of people I know get their stuff shipped to Ogdensburg, then travel down to pick it up. That way they can take advantage of the free shipping US stores offer to the continental US.
Let's keep up the previous examples and say we found that CAD$799 guitar for an extreme bargain price of USD$529 (CAD$723.89). That is indeed a great deal if you can avoid shipping it across the border, and there's only one way to do that. But, driving to the border isn't free. Let's make sure we take all the costs into account.
Fuel Efficiency
The average fuel efficiency of today's cars is around 9L/100km on the highway (15L/100km for SUVs, trucks, & vans). Lately gas in Ottawa has been averaging around $1/L. So, a round trip to Ogdensburg and back in my car is going to cost me about $18 ($30 if I had an SUV, truck, or van).
CAD$723.89 + CAD$18 = CAD$741.89 (car)
CAD$723.89 + CAD$30 = CAD$753.89 (SUV, truck, or van)
Still a better deal than getting the guitar locally.
Package Holding Fees
The UPS Store in Ogdensburg is happy to invite Canadian customers to cross the border and pick up their packages. But they certainly don't do it for free. They charge USD$5 per box, plus the 8% local sales tax. That adds a total of CAD$7.39 to the total.
CAD$741.89 + CAD$7.39 = CAD$749.28 (car)
CAD$753.89 + CAD$7.39 = CAD$761.28 (SUV, truck, or van)
Unfortunate, but still a better deal.
Bridge Toll Fee
Almost forgot. There is a fee for crossing the bridge to Ogdensburg, which you have to pay both ways. Last I crossed, it was CAD$3.75.
CAD$749.28 + CAD$7.50 = CAD$756.78 (car)
CAD$761.28 + CAD$7.50 = CAD$768.78 (SUV, truck, or van)
I think that actually might be it...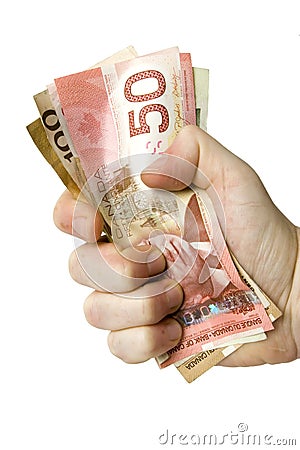 A Fistful Of Dollars!

So there we have it. We finally found a way to save some money when ordering from the US. It took some time for us to get there, but we made it work. You just need to live near the border with a valid passport and scour the internet for a great deal that offers free shipping to that border. Just don't stop for too many snacks while on the road. ;)
Other Considerations

I'm sure I could make some argument for supporting local, and that the real hidden cost is the effect on your local economy. But, as a frugal consumer, that is the last thing on my mind. The REAL hidden cost to saving that extra cash is the fact that not only will I not be able to return the guitar if I change my mind, but it wouldn't have a valid warranty to cover me if something went wrong.
There are other hidden advantages to shopping local and developing a relationship with your local dealers that can't really be quantified with dollar signs.
Conclusion

Without getting all high and mighty or standing on a moral pedestal, that's the best argument I can make for keeping your business in Canada. In most cases, it really is cheaper just to get the stuff from your local shop, or at least, some other Canadian retailer. In rare cases, you might find a smokin' deal in the US and you might save some money if you can cross the border yourself to pick it up.
Give Your Local Shop A Chance To Compete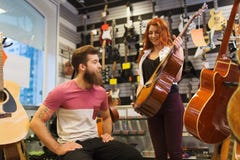 Owning a brick and mortar retail store is a hard business these days. This should come as no surprise to anyone who has followed the past several years of stores all over the country closing their doors. Between guys in their basements and large corporations offering rock bottom prices, it is tough to compete and stay afloat, let alone earn any sort of sustainable living. So, their prices may very well be higher than you want to pay.
I'm sure there are some owners who won't budge, but I know for a fact that there are many who would be more than happy to match prices in order to make the sale and keep your business. You might find that you can save that $30-$50+tax just by going to your local store and asking politely. Who knows, you might even develop a useful working relationship with the people at that store. You can't get that by being an anonymous online user.
What Does Any Of This Have To Do Next Gen Guitars?
The cat is out of the bag! We're confident that Part 1 & Part 2 of this series accurately breaks down why we are a better deal than ordering from the US (not to mention our dynamic pricing, best price guarantee, and our 30 day price protection guarantee). All that combined with our track record for top quality customer service and fast turnover times, and you really can't go wrong.
If you'd rather support your local dealers than order online from us, we agree 100%. If anything, we want to partner with them to make the small business music industry in Canada thrive. There are a few ways you can support us, while still supporting your local dealer:
1) OEM/Dealer Accounts - If we carry products your local dealer doesn't offer, give them our info and suggest they sign up for a dealer account. That way you can get what you need directly from them.
2) Drop Shipping - A lot of the time, the reason why small dealers are hesitant to take on new suppliers or offer certain products is the cost of ordering and keeping things in stock. Instead of ordering large quantities of items from us, they can simply call us to place special orders for their customers and have us ship directly to the customer. That way, they can make a profit without ever having to deal with new inventory.
Whether you order directly through us or send your local dealers to us, you're helping us become the parts supplier Canada has needed for a long time. Let's make it happen!